Humidity and temperature controller for intake and exhaust air fan with additional 2 programmable outputs and LCD display

Hardware:
2pcs. Variable outputs for fans
2pcs. Programmable outputs for appliances
1pcs. Temperature and humidity sensors with light detector (air)
1pcs. Temperature Sensor (Waterproof)


The 16A fan controller is built from a solid very robust aluminum housing. It can control up to 2'200W power per outlet. In addition to a conventional temperature and humidity variable control the 16A controller carries 2pcs individual programmable outlet sockets. These can be assigned to one of the two sensors or be controlled by a timer function. Particularly attractive is the huge number of parameters that can be set for day/night individually to fulfill all desired requirements.
Depending on the version, the controller is equipped with a USB port for data logging. All relevant measurement data and control signals get written on a CSV file to the USB stick, later they can get evaluated in an Excel application. The option socket for EC fan exit provides you 2pcs 0-10V or PWM (pulse width modulation) signal with Chogori socket. (includes 2pcs Chogori connectors with 4m cable for your EC fans). The 16A controller has a free slot for a pressure sensor to control the intake air fan depending on the pressure difference. The device has a protection fuse of 2x16A, which is considered as maximum allowable load for the entire controller. Each single output can carry max. 2'200W per socket and all outputs together have a max. load of 3'600W/16A.

The device comes with a 2m connection cable to connect to a conventional household outlet of 230V/16A. The sensors are supplied with a 4m long cables. A digital display and four navigation keys provide easy navigation in the menu and 6LED lights are indicating the current switching status. Among other things, settings such as display functions, memory frequency and languages, English, German, French, Spanish and Italian, can be selected.


Sizes and technical data:
Case: WxHxD = 120x180x80mm
Controller: WxHxD = 150x210x110mm
Voltage: 230V / 50Hz / I max: 16A / 3'600W
Digital sensor    5V Measures temperatures from –55°C to +125°C (–67°F to +257°F)
0.5°C accuracy from –10°C to +85°C
Humidity accuracy +/-3%RH max tolerance @55%RH
Protection class IP54
GSE Growthanalyzer free software:
The USB version is logging all data such as settings and measurements to the USB-stick as a .csv file. This file can be analyzed with our or with any other software such as OpenOffice-Calc, MS-Excel etc... (Free download on download tab)

| | |
| --- | --- |
| Pmax | 16.0A |
| Umax | 230V 50Hz |
| VAmax | 3'600W |
| IP class | 54 |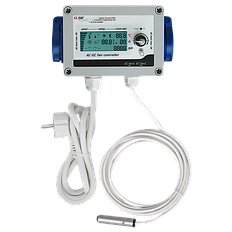 LCD fan controller
249.00

 €
249.00

 €
249.0
EUR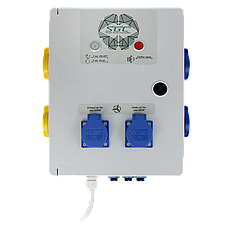 SGC-ONE Smart Grow Controller ONE 10 sockets
649.00

 €
649.00

 €
649.0
EUR